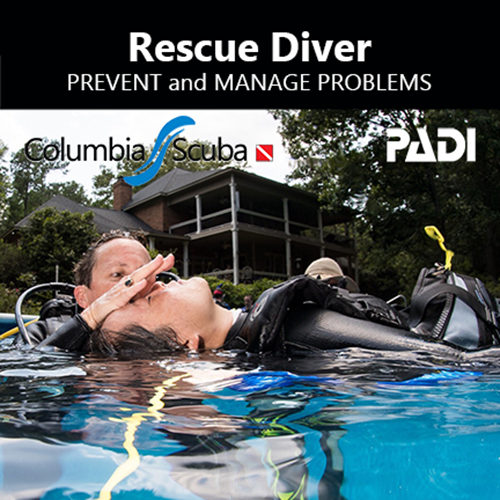 PADI
Rescue Diver
Stock No. RESC
Scuba divers describe the PADI Rescue Diver course as the most challenging, yet most rewarding course they've ever taken. Why? Because you learn to prevent and manage problems in the water, and become more confident in your skills as a diver, knowing that you can help others if needed. During the course, you learn to become a better buddy by practicing problem solving skills until they become second nature. Plus, the course is just fun – it's serious, but still allows for lots of laughter in between the focused learning.
PADI (Junior) Adventure Divers who are at least 12 years old and have completed the Underwater Navigation Adventure Dive may enroll in a Rescue Diver course.
You also need to have Emergency First Response Primary and Secondary Care (CPR and First Aid) training within the past 24 months. You can complete this training during the Rescue Diver course. Your instructor may also offer the PADI Emergency Oxygen Provider specialty diver course at the same time.
IF YOU DON'T SEE A DATE FOR THIS SPECIALTY BUT WOULD LIKE TO BEGIN eLearning AND SCHEDULE YOUR DIVES, CLICK ON THE DEC. 31, 2022 INQUIRY CLASS TO BEGIN. Many classes have a minimum number of students so we'll work with you and others to schedule a date if you select the Dec. 31 inquiry course date.
*Learning materials, including but not limited to: crew packs, text books, and eLearning, are not returnable/refundable. Once eLearning has been assigned, it is not possible to transfer it to another student. We will make every effort to help you succeed and finish your course. Students may move course dates from month to month(up to 12 months) without any additional charges in order to complete their certification. Course fees may be refunded as store credit to be used on equipment, trips, or courses.
Rescue Diver E-Learning
Pocket Mask
Instruction
Tanks
Weights
Processing Fee
Mask
Fins
Snorkel
*BCD
*Regulator
*Dive Computer
Surface Marker Buoy
Finger Spool
Cutting Tool/Knife
Compass
*Rental Available
*Wet Suit (3mm or 5mm)
*Rental Available
---
---