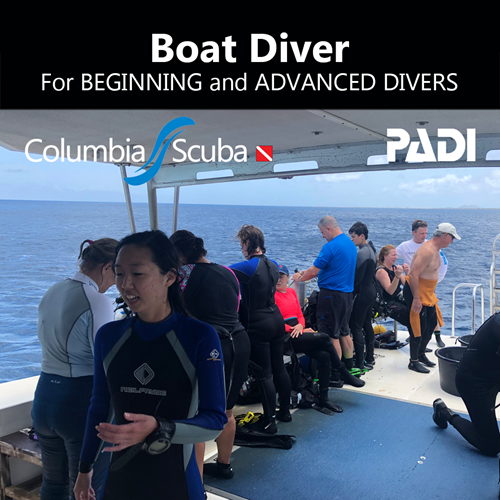 PADI
Boat Diver
Stock No. BOAT
Much of the world's best scuba diving is accessible only by boat. Whether you've never made a boat dive or you've logged dozens, the PADI Boat Diver Specialty course will benefit you because boats in various parts of the world do things differently. Scuba diving from a boat is fun and relatively easy because you usually descend directly onto your dive site.
If you're a PADI (Junior) Open Water Diver who is at least 10 years old, you can enroll in the Boat Diver course.
*Boat Diver courses are held in conjunction with trips.
*Learning materials, including but not limited to: crew packs, text books, and eLearning, are not returnable/refundable. Once eLearning has been assigned, it is not possible to transfer it to another student. We will make every effort to help you succeed and finish your course. Students may move course dates from month to month(up to 12 months) without any additional charges in order to complete their certification. Course fees may be refunded as store credit to be used on equipment, trips, or courses.
Learning Materials
Instruction
PADI Processing
Tanks
Weights
Mask
Fins
Snorkel
*BCD
*Regulator
*Dive Computer
Surface Marker Buoy
Finger Spool
Compass
Cutting Tool/Knife
*Rental Available
*Wet Suit (3mm or 5mm)
*Rental Available
---
---